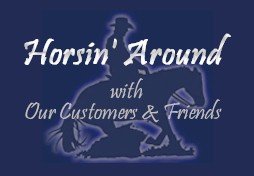 Whether we are at home and at shows, our customers love to be successful and
competitive. But no matter what happens, we love to have fun and enjoy
our horses and friends. After all, that's why we do this, right?
---

Florida Classic, February 2005, Tampa, FL
Left:
Enjoying the sunshine in
Florida, (L to R) Erica,
Valerie, Marysue,
Dutch, and Cheree.

Right:
Eric Lindgren and Annie
are relaxing after a great
the run in the Youth.

Right:
Kelli and Missin Lil Pep give Nate (the "Nate-Meister" a ride.


CJ and "Winston" take a well deserved break

Left:
Maryclaire ("Mom") and
Eric relax by the stalls

Right:
Marysue takes a break
from studying her pattern
book to say "hi."

Left:
Nate is ready to ride in
his little chair with his
boots and spurs on!

Right:
Val and Eric hang out
after a successful day!

The Christmas Party, December 11, 2004 ~ in the Barn
A Festive bunch at the
Christmas party and it's Jon's
Birthday! Betty is giving him
his cake while Niki takes
pictures. It turns into a busy
night in the barn at Cradlepine!
Left:
Don and Evelyn are
enjoying their meal
with Marysue and
Bruce

Right
Betty presents Jon
with his gift!
Left:
Kim and Todd
are enjoying the
festivities

Right:
Shelby, Betty, Jeff,
and Gabby
Don, Marysue, Margaret, Sue, and David
all enjoy a drink and swap stories

Jon and Dutch look like they're up to something!

Right:
Jon shows off his anatomically correct birthday
cake
Left:
Charlie and Betty and
their new "wife" Jon,
complete with his pretty
new apron!!

Right:
Jon tastes his birthday
cake after he blows out
all of his candles.
mmmmmmm!!!!!