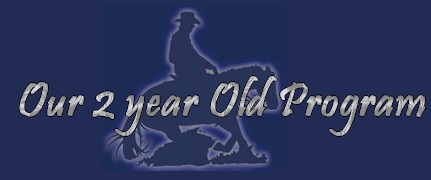 Chapman Reining Horses does not just have a place for non-pro competitors with older, broke horses.
We take pride in starting young horses as well as continuing their training to help them reach their full
potential. We can prepare your two year old to compete in the futurities as a three year old, or in the
derbies as a four year old, in the open or non-pro classes.
| | |
| --- | --- |
| | When we say our program takes you "From Start to Finish," We stand by what we say. We will start your colt slowly and correctly, not to push him or her too hard mentally or physically. Finished reiners need a proper foundation. We understand that skipping steps at an early age only leads to problems down the road. Shortcuts will come back to haunt you later in the horse's career. By taking it slowly, one step at a time, we have created many nice young show horses, quiet natured and broke enough to compete and win in top competition. |
| | | | |
| --- | --- | --- | --- |
| | We start many or our colts as long yearlings, giving them up to 30 days or nice, easy training. We saddle and do ground work and then ride them around lightly in the round pen and arena to give them the idea before they return home until their two year old year to get broke. they learn to respect us and get a better work ethic when we start them younger like this, but they are not stressed to the point that they will hurt themselves physically or become scared or frustrated, mentally. | "Slydin Shadow" | |
| | "Great Genetics" | We like to have our two year olds riding in a bridle, one handed, as soon as possible. The two year old stud colt at the left has had about sixty rides on him and is riding around in one hand in a short shanked snaffle and is very light in the face. he turns, circles, and stops (see the animation below of this colt stopping). We like to let the young horses tell us when they are ready for the next step and some progress faster than others. We try not to let them get bored but not to give them too much at once either. This steady progress makes a nice broke horse who is mentally ready for competition. | |